Shannon Cave
24 November 2017
Posted by
Adam Walmsley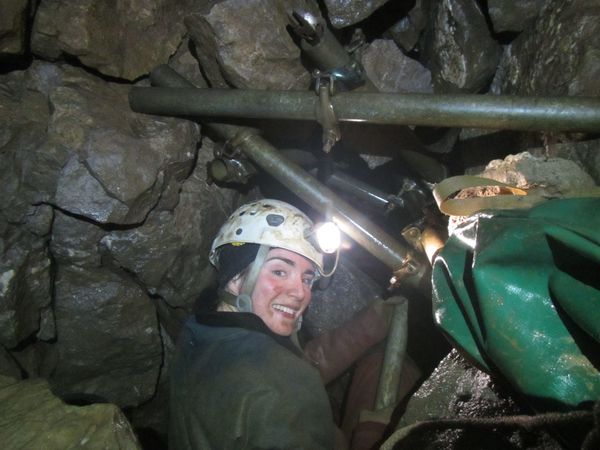 Having heard a lot about this cave from the Irish contingent at Ario, I was keen for a trip, and SUICRO provided the perfect opportunity. The team shrank at the last minute, as Axel decided he wasn't fussed about making pictures, so it ended up being a nice 4-person YCC team.
Aileen guided us to the cave (after driving the Marlbank Loop several times). It was a 15 minute walk in low cloud to the entrance at a large shakehole. The entrance passage was immediately different and interesting - a stooping height triangular passage with white limestone and chert protusions. Shortly we were at the head of a very fine, pre-rigged 30 m pitch. At the bottom, we left SRT kits and continued dans le route.
The Rebirth Canal was great fun, flummoxing Pete for a while at the end corner, but providing no real difficulty. Once into JCP passage the formations were fantastic - pure white and near pristine. The passage was well decorated with a variety of different stals, straws and helictites for a fair distance, the discreetly waymarked route weaving between them. Soon we were climbing down Border Climb into the ROI. Aileen dismantled a work of Turner Prize-worthy scaffolding art in order to take some short lengths through to stabilise a choke. We ended up carrying one of these each as they wouldn't stay in the tackle sack.
Once in the main streamway it was boulder chokes galore, interspersed with sections of mostly stompy streamway. The undoubted highlight was Swinger's Corner where a rope swing was used to cross a deep pool, with varying degrees of success. Aileen dropped short of the landing zone into a deep bit, I pulled it off with aplomb, if I do say so myself, Pete trailed his legs though the pool splashing water all up in his face and Fleur just binned off the rope and waded through. I later learned that the rope is attached to a very dubious single spit with a bolt that is slowly working itself loose. Nevertheless, Pete and I agreed that there should be more rope swings in caves.
One particular boulder choke proved difficult to navigate and it took a decisive action by Fleur to break Aileen out of her perpetual loop. We passed Mistake Passage and were soon at George's Choke where Aileen did her stabilisation business. This took abut half an hour, in which the rest of us took turns to go and have a nosey. I went through the squeeze into the small space where Aileen was working and she showed me the boulder which fell on her three months prior. She seemed unfazed by the choke, unlike Les who has vowed never to return after his go at being trapped there. It was a fairly intimidating place. Fair fucks to those who dug and shored it.
Before starting our return journey, we packed up a very heavy old winch and assorted rusty ironmongery into our now empty tackle bag. This was regularly shared on the way out as it was too much to manage for any length of time. Aileen took us up through a wormery into a high level canyon passage which had an old camp/ICRO dump and led to an impressive phreatic trunk passage with a cracked mud floor. A worthwhile little detour before continuing out.
Getting back up the Polltullyard pitch was a bit of an arse for me, with a tackle sack full of iron, no pantin and a teeny tiny footloop, which meant prussicking with one foot. It was even more of an arse for Pete, who's footloop broke 5 m off the floor. We were out by 16:30 after nearly 6 hrs of cracking good caving, then headed back to Garrison for an evening of victuals, Guinness and tales of Irish caves.
Shannon far exceeded my expectations and I would love to go back for more rope swing shenanigans a longer trip to its further reaches.