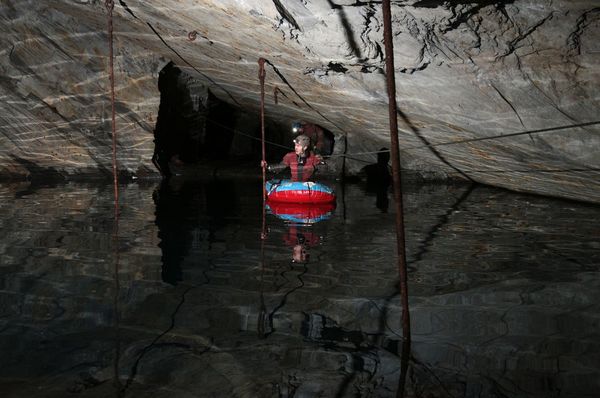 The most fun you can have underground with your kit on!
I was so glad to see the trip is still possible and not much has changed apart from some rigging issues which have been temporarily sorted to make the trip possible.
The rope on the first pitch is pretty knackered but probably ok. We rigged our own, checked the second rope then pulled through. I would recommend that.
The second rope is an almost new 9mm rope which is absolutely fine but being 9mm probably won't last long. Its also only rigged from one knot (via the various decent strops). The rub protectors are showing their age but ok if you don't bounce around like and idiot.
The zip line is no more. It has snapped (rather disturbingly) and coiled up on the Croesor side. A tensioned 10mm rope has been rigged and is in reasonable condition. It's rigged really well and good and tight although if you weigh more than 75kg you will get your arse dunked in the water! All 11 of us went over on it with a double wheeled pulley and all was good.
The suspension bridge is all fine and looks good.
The three further bridge crossings are all good. One (the third I think) has a new wire zip line from the right hand ledge via a rope traverse around the right wall.
The canoe is still in place and working well. Pollyprop pull cord is fine. It does seem to leek a bit but there is a nice red bucket to bail it!
We had a rally good trip and it's great to see that everything remains working more or less. I hope the zip wire gets replaced at some point as it's such a good trip and adds so much fun to it. I really hope that if those looking after it need money they will ask the community as I'm sure people would throw a bit of money at it if required.