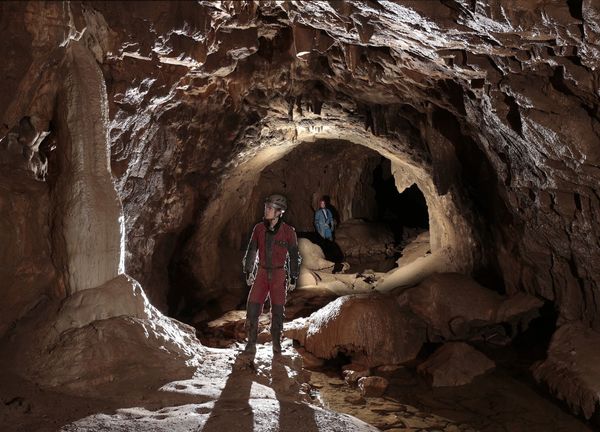 Sleets Gill has an ominous reputation. A high profile rescue raised caver awareness of how very flood prone this place is, often flooding completely days after heavy rain has long since passed over.
It nonetheless offers the rarity of a splendid and lengthy adventure in Yorkshire without a single item of tackle! For this reason it had been on my list for some time but the weather was never dry enough to satisfy my paranoia.
The summer of 2018 however provided several such dry opportunities, and only 6 days before Gary and I were due to be married, we thought we would have one final caving trip together as single men. Accompanied by other YCC folks and a few NPC members too we made our way down to Littondale where a small layby (large enough for 4-5 cars) allowed parking only 5 minutes walk from the cave entrance. It was a scorching day and clearly several other cavers had the same idea; Sleets Gill was the place to be today!
The entrance is certainly a sight to behold - a large ramp of limestone gravel and rocks vanishing downwards for some distance at quite an angle! At the bottom several crawling sections interspersed with chambers reached a junction where the Wharfedale sump is usually on the right; not today though as it was totally dry! We headed left into the main passage.
The main passage is splendid; like a railway tunnel winding its way for about 10 minutes in splendid proportions. Why had I not been here beAbout 20m before the big passage suddenly ends, the drop down on the left towards hydrophobia/hypothermia was easily found. We didn't know what to expect from this, but we were keen to get to the famous Ramp. We were not wetsuited so we hoped for low water. The route to Hypothermia goes straight ahead, but right is the way to Hydrophobia and The Ramp. This starts as a slightly awkward hands and knees crawl in a stream passing a few junctions (the Not for the Faint Hearted description is very clear) until a stream enters from a tiny shelf on the left - the start of Hydrophobia!
This tiny passage does not appear inviting. Even in the very dry conditions we had it was still lying on our bellies in the stream and the water was freezing. As we thrutched onwards the passage quickly got smaller, only 40-50cm high and 60-70cm wide on average and sharp and grabby. On several occasions on rounding a corner I looked ahead in despair, but with people rapidly snapping at my heels I pushed on.
The crawl lasted about 5-6 minutes, was painful, wet but not horrific... we've certainly done worse in our home patch of the North York Moors!
The crawl emerged at a wet junction. The navigation to the bottom of The Ramp is complex and in fact Not For the Faint Hearted is unusually vague here. However the problem is eliminated by there being a continuous wire all the way from the end of the crawl to The Ramp to follow.
At The Ramp, the things got much bigger. Ahead was a sump and two other cavers were already there ready to free-dive into it having come in via Hypothermia. We were particularly surprised to find that for one of them this was one of their first ever caving trips! We suddenly felt like our own achievements that day had been diminished.
The Ramp, on the right just before the sump is an unusual feature indeed - a very steeply ascending huge passage which seems to go up for ever. The upper parts are a little nervewracking as you become very conscious that a loss of footing is going to make for a very speedy descent. Digging thumbs into the mud for grip worked well. At the top is a splendid gallery of straws, easily justifying the efforts. A little further up through boulders was a final upper chamber with some more formations (quite vulnerable) and loose rocks.
Going down The Ramp was a delicate operation but a very enjoyable and unique experience.
We had an absolutely excellent day. A trip to The Ramp has it all; unusual cave passages, big stomping tunnels, formations, wet crawls, and is just good fun throughout. Definitely not a place I'd want to be in any wetter conditions though.