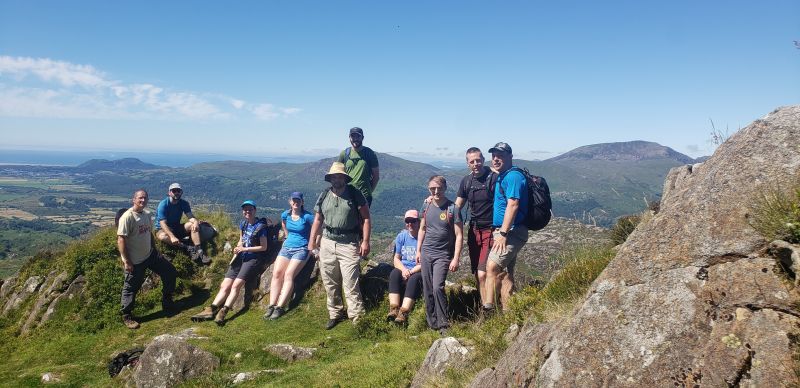 For over 10 years, YCC has been visiting the Clogwyn Mountaineering Club hut in North Wales for our annual December slate mine event. This has always proved to be one of out most popular meets of the year and long may that continue. However, each year, we peer up at the mountains, usually through the rain, and wonder if we should perhaps come back here in summer and stay above ground, rather than below it.
This year we finally made it happen, and the hut was booked for the weekend of 8-10th July 2022.
Myself and a handful of others arrived on Thursday evening to get an early start to the weekend, with the forecast being hot-hot-hot! Will and Rachel even drove straight down from one of Rachel's work nights out, arriving at about 3am!
On Friday we took an excellent walk up onto the hills, following the path north in the valley between Cnicht and Yr Arddu and coming down to the road. This was a stunning, scenic walk without any severe gradients, which was good because it was high 20s in temperature! Our plans to then complete a circuit of Moel y Dyniewyd took a nose-dive as everyone was so lethargic from the heat that we instead followed a lovely footpath through the woods hown the river (Nanmor), returning to the road near Bwlchgwerog and then back towards Croesor.
Saturday involved three separate groups, one climbing, and two walking. My group (which was most of us) intended to go up Tryfan, but despite arriving around 9:30am, all available parking along the roadside was totally rammed. Instead we parked at Gwern Gof Isaf farm and took the ascending track opposite, north, skirting around the east side of Ffynnon Llugwy Reservoir and steeply up to a crossroads of paths with some stunning views. From there we headed east off-path to the summit of Pen Llithrig y Wrach, before descending to the south end of Llyn Cowlyd Reservoir and taking the public footpath back to our starting point. A cracking walk!
I believe Rachel and Will, who were later to depart than us, did get parked and walked up Tryfan. Goes to show that the early bird does not always catch the worm!
Sunday, we remained closer to the hut and retraced our route from Friday, this time ascending Cnicht from the west side; A stunning but steep ascent taking 45 minutes in severe heat, with many stops for water. The flat footpath along the summit of Cnicht is stunning, trending north east to join the public footpath heading south east down towards Croesor Quarry. But rather than taking an easy way down to the bottom of the valley we decided to head down the steep and overgrown incline comprised now of very loose and skiddy shale, adding some considerable peril to end the day, followed by a gentle walk back to Croesor where we had parked.
We had a stunning weekend, making the most of the weather and really knocking out some great mountaineering trips across North Wales.
More photos here: https://yorkcavingclub.org.uk/gallery/349-north-wales-weekend