Long Churn beginners trip. 10th October 2022
11 October 2022
Posted by
Conor Morrison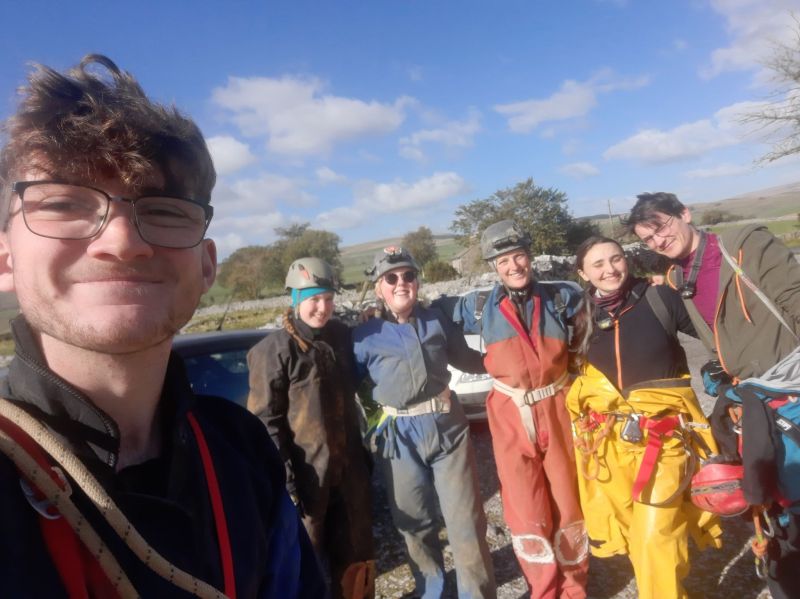 With the kind loan of some personal kit from Matt and Gary and tackle from the YCC gear store my friend Alice and I were able to take 4 (semi) willing new cavers (Freya, Emily, Eloise and Jake) on a very enjoyable trip through Long Churn and down the Dolly Tubs pitch to enjoy the spectacular views of Alum Pot. Unfortunately the Inglesport cafe was closed, but the open shop allowed a few unnecessary purchases (as is mandatory when stepping into Inglesport). We breakfasted at Bernie's next door instead, delicious!
It had rained pretty heavily the night before, and although the weather on the day was marvelous, there was a fair bit of water flowing through the cave. The chute down into Dr Bannister's Handbasin was rather sporting, but using a knotted handline the new recruits handled it admirably. We progressed quickly to the top of the waterfall but chose to bypass it as the stream was somewhat of a torrent.
Eloise, Emily and I wriggled our way through the cheesepress which never fails to amuse. After being born again we rejoined the others and descended the Dolly Tubs pitch. After posing for a rather chilly (and rather blurry) photo at the Alum Pot window we all scarpered back up the pitch using a ladder and lifeline and swiftly exited. We walked back down the hill in the receeding daylight, very chuffed with ourselves. The newly initiated cavers proved themselves very capable, and have no excuse to refuse when I attempt to drag them along for the next trip.
Smashed it guys, well done.