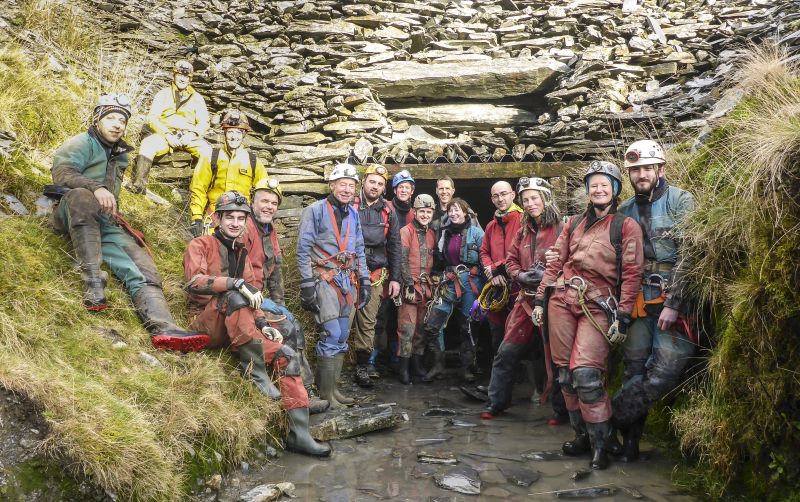 December already, how time flies!
It wouldn't be the start of Christmas without our annual adventure down to North Wales, staying, for the 12th year, at the excellent Clogwyn Mountaineering Club hut for mountains and slate mines.
Myself, Gary, Chuck, Philip and Mark, and importantly, a polypin of Old Legover from Daleside Brewery, made our way down on the Thursday night, arriving at a civilised 10pm in time for a good few pints and a plan of a Friday walk.
Friday walking - Moelwyn Mawr circuit
Friday brought lovely December sunshine, and we set off for one of the few decent circular walks we had not yet done from the hut. We ventured up to Croesor on the footpath on the north side of the valley, and then followed the tramway up to Croesor mine. Here, we had intended to take the east path across the fell but accidently found ourselves down at Rhosydd quarry by mistake. South, we took the path around the western edge of Llyn Stwlan Reservoir, along the eastern slopes of Moelwyn Mawr (which we had intended to summit, but daylight was against us).
We passed a number of mine workings on the side of this excellent footpath (must return to investigate), before heading west at Bwlch Stwlan for a boggy trek back to the minor road south of Croesor, and then a footpath westward through the woods back to the hut, a fine 16km round trip, arriving back just as the sun was setting. Highly recommended as a walk from the hut.
The hut gradually filled with the remaining attendees, Jerry, Tegs, Will, Rachel, Toby, Liv, Ali and Josh, and a fine evening of beer and cheese and crisps followed, with the hut having finally now reached a comfortable temperature thanks to the fire being stoked with coal while we were out.
Saturday - Cwmorthin long round trip
Saturday saw us joined by Margot, who kindly took us into Cwmorthin, saving us a drive up to Betws-y-Coed to collect a key, but most importantly, so lovely to see Margot, a former YCC member, again. We headed on-mass to Cwmorthin intent on the standard round trip as I remembered it, however, Margot suggested an alternative route which we had not done before.
Along entrance and past the various workshops including a new wooden 'stage' presumably where the tour guides give their lecture. Then traditionally we would take third left, where then, across the chamber a slope leads down to the standard round trip. However, right instead of left at this point reaches the top of a flight of stairs, leading down to a fabulous wobbly bridge of wooden sleepers over the top of a hellish drop (equipped with safety wire just in case), but beyond here, a pulley was needed to 'zip' across the next section. We did have a few steel pulleys, but being a group of 15 by now, this was never going to happen in any sensible timeframe.
Instead, we explored down a steep incline back in the opposite direction from the bottom of the stairs, continuing down two levels to just above a sump, and then into an endless network of mine tunnels and slopes. After an hour of exploring (and me not recognising any of this from our usual round trip) we eventually, somehow, found ourselves at the main boiler chamber with logbook, which marks the halfway point of our usual round trip, and in the previous chamber, a beautifully reassembled drill rig. Margot had been involved in helping to assemble this a few years ago, and really nice to see this beautifully preserved.
Beyond the boiler chamber, ignoring the steep slipperly slope down into Oakley mine, left lead across a large slate chamber and then into a series of tunnels. This passed through numerous slate chambers, one of which had a rope going up the near-vertical slate slope at the far end against the right wall, and a series of slate steps nailed on to provide footholds. We decided to give this a shot, so scrambled up and then across the top of the chamber to a very exposed traverse around the edges of the chamber with a 20m drop below. A slippery bridge crossing, and then a zip line (bypassable by the parallel tunnel) was followed by a scramble down another slope, completed a fun little round trip and ending up just a few chambers along from where we started. Great fun!
Continuing on, soon we were back at the bottom of the main incline, which we stomped up, examining the side-routes on the way, and then up the staircase back to the entrance adit.
In total we were stomping around for about four hours, with daylight almost gone by the time we left. A splendid day and nice to do an alternative to the usual round trip.
Thank you so much to Margot for coming out and showing us around, and also to the team who are installing all the various fixed aids throughout the system. When we first started visiting Cwmorthin (11 years ago) these were few and far between, but now, the groups who bring paying punters in for adventure experiences, have invested so much time and money into creating an underground obstacle course and playground, and we are extremely grateful indeed.
Photos of trip: CLICK HERE
Curry that night at Sima Tandoori in Porthmadog that evening (very good indeed) followed by more beer at the hut.
Sunday - Bwlch-y-Plwm Lead Mine
Sunday saw us go two separate ways. Most people went walking, but myself, Gary, Toby, Mark and Chuck headed to Bwlch-y-Plwm lead mine, on recommendation of Chris Twigg. This is a stone throw from the hut yet has escaped our attention for the last decade, so time to put that right.
Bwlch-y-Plwm has a top entrance in the woods (SH 62706 41290) and a lower entrance directly underneath the tiny single track road that runs through Llanfrothen (SH 62459 41191). This is frequently done as a pull-through and this is, in hindsight, perfectly fine and simple (good modern, high quality anchors, with no navigational issues and stable passages so little chance of any collapses), but as we were unsure what we would find, we opted to stick with the safe option of down and back up again.
Full map and description CLICK HERE
Previous online descriptions have said to park at the ruined barn on the tiny road just on the east side of Llanfrothen (just beyond a gate if approaching from the north). However, this barn is being renovated, and the roofers were actually working the day we were there, so parking there is no longer possible and there are no other good places on that road to park without causing a mega nuisance.
Therefore, we parked on the main Rhyd road, where a layby (SH 627 418) about 50m east of the public footpath to Bwlch-y-Plwm heads south. Follow this path (keeping left at the fork) to the farm, where just before the farmhouse the path goes off left up the hill and is somewhat indistinct. After ascending a short distance, a wall is crossed at a stile, and from here ascend a short distance further over some tips but then come off the path and follow the contours of the hill to the right (south west) crossing a fence (there are a few locations where the fence is flattened for crossing). Beyond here the entrance really benefits from GPS and the 10-figure grid reference to find (SH 62706 41290) as it is in the middle of the woods on the north-west facing slope of the hillside so could be easily missed by being too high on the hillside as we almost did.
The top entrance is an adit in the hillside which reaches the first pitch after only a few metres. There are excellent anchors and a chain with which to rig this 8m drop (15m rope sufficient, 3x krabs) but beware of rope rub on the roof as you descend. This was really drippy when we were there.
From the bottom, an easy scramble downhill (no rope needed) reaches a passage, passing around a sump and soon reaching the head of the next, main pitch. Some creative rigging from a selection of anchors and a chain is needed here (hanging directly down from the chain causes some rub on the right side of the shaft, so using the anchor on the entrance side of the drop to pull the hang over a little helped a lot). A descent of about 15m reached a rebelay point for the final 8-10m drop, although if pulling through this rebelay wouldn't really be necessary.
We took a 40m rope which was only just long enough (based on a complex rope-engulfing tri-hang operation at the top) so maybe 45m might be better to allow flexibility in fixed rigging.
Onward along the passage, a choice of routes:
Straight on is a traverse along the left wall, which had an excellent in-situ rope on good anchors (but probably your own 15m rope would do the trick just in case the in-situ is absent). This leads across to The Bridge (a wooden board across a large drop), which could be rigged with a short rope (anchors present), but really, it's very easy just to walk across unprotected holding onto the anchors, or at worst sit down and shuffle along it. Beyond here, we explored a selection of passages all quickly reaching dead ends (but including a few benches for an excellent lunch spot). This entire section is entirely optional and doesn't form part of the main through-trip.
Back at the start of the traverse, an in-situ rope headed downwards which is the way on. The first several metres of this 'climb' was rather steep and slippery. There was a good quality in-situ rope for us, but probably best have your own 10m just in case the in-situ is absent. Beyond here, a series of easy drops and a steep downhill scramble in an impressively large passage reaches a large sump pool which it is necessary to carefully traverse around. There is in-situ rope all the way down here, which is useful as a handline, but not necessary for experienced cavers. Beyond the sump pool is the main junction with four passages of Deep Adit level leading off, all of which can be explored to their ends.
The passage heading south west followed an impressive air shaft/adit, becoming just above knee-height depth, before emerging to daylight under the road near Llanfrothen. We turned around and headed back into the mine for the outward journey, after exploring all passages.
We didn't bother with any of the Deep Level Traverse/Roman Level stuff (which needed extra rope).
We completed the trip down and back up again in about four hours including lunch, and lots of time exploring everything and faffing with photographs.
Tackle requirements for fixed rigging to get from top to bottom entrance not including Roman Level stuff near bottom entrance:
Entrance pitch: 15m rope, 3 krabs.
Slope below entrance pitch: Easy scramble, no rope needed
Main pitch: 45m rope 5 krabs (to include rebelay about 10m from the bottom).
Traverse: In-situ rope in good condition but 15m + 7 krabs just in case in-situ is absent.
Bridge crossing: Perfectly easy without a rope but could use the 10m rope, 2 krabs intended for the third pitch (see below).
Third pitch: In-situ rope/handline in good condition, but 10m rope, 2 krabs just in case (not marked as a pitch on the survey).
Descent to bottom: Free-climbable/scramble but in-situ rope to hold onto.
Summary of minimum tackle recommended for competent cavers and fixed rigging including an explore of all the major passages EXCEPT for the stuff at the very bottom (Roman Level/Deep Level Traverse): 15m, 45m, 15m, 10m, 17 krabs
If doing as a pull-through, you would probably need just a 20m and 60m rope with 9x krabs for the traverse and bridge. On exiting you can take the public footpath northeast out of Llanfrothen back to the car park, thus avoiding going back up and over the hill. But you miss out on experiencing the mine going upwards, which was fun! I think that pulling through on this mine takes away most of the fun.
On exiting back via the top entrance finding our way back to the footpath and the stile was complicated; And would have been even more interesting had we exited in the dark! Best go uphill first, follow the hillside along and then come down to the wall/stile.
A really magnificent lead mine, far exceeded my expectations!
Photos of trip: CLICK HERE
A splendid weekend, really great to see everyone for our most popular event of the year. The date is already booked for 2023!