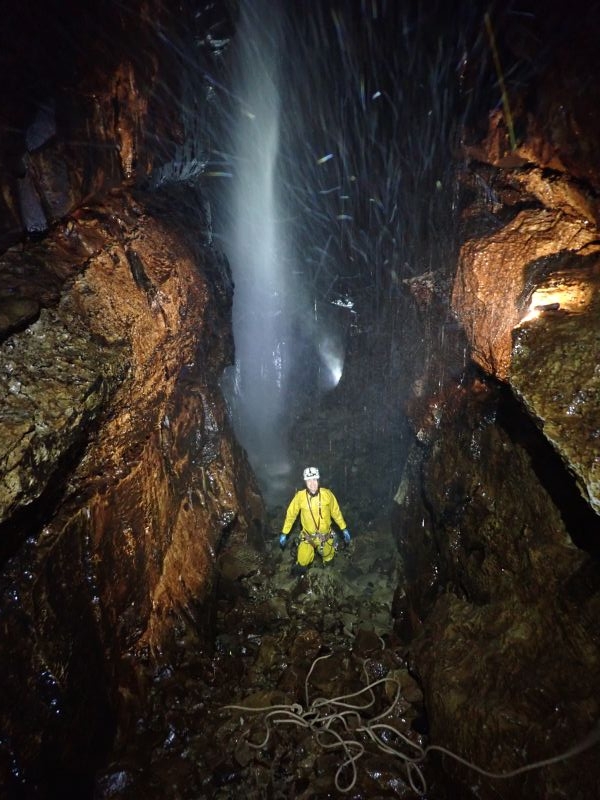 It has been a rather damp start to 2023 in the Dales so trip options were limited if you didn't want to drown.
Thankfully, Rift Pot was available so we booked the cave through the truly wonderful CNCC booking system. Hurrah for not turning up behind a queue of other groups!
We set up for the day's adventure with some breakfast in Inglesport (although some of the team's choices were questionable and I remain unconvinced by the merits of cheesy chips and gravy). The change and walk in were a surprisingly pleasant affair in the sunshine and the Dales looked stunning with a dusting of snow on the tops.
Traditionally, my trips to the allotment have involved a great deal of wandering around, often spending longer looking for the cave entrance than actually underground but thankfully Ade's memory served him well and there was no dallying on this trip.
Rift Pot is aptly named - it's a big fat rift. The trip starts at a narrow gash in the surface from which you wind your way down a series of pitches and false floors. It's not your typical Yorkshire pothole but certainly spectacular. We'd read warnings of recent rockfall so took extra care with this in mind. Whilst the pitch heads need care we thankfully didn't experience or see evidence of any further rockfall (though caveat here that there's boulders everywhere so this may not have been immediately obvious).
After the entrance pitch we climbed over some boulders to drop down into a chamber where there is a choice of routes - Bob's Hole as well as the original Rambler's Route. As we were a team of six we opted to do an exchange so Toby, Hobby and I took Bob's Hole. This turned out to be quite damp.
The description promises views of the grandeur of the main shaft and we were not disappointed - although time to appreciate the grandeur was limited as we were getting thoroughly soaked. Additional spice was added by the fact that either our 45m rope had shrunk or the rigging guide needs a more generous rope length as we had to exit on a ledge a few metres short of the bottom.
The main waterfall coming in from Long Kin East was positively roaring and on meeting up at the bottom we made a swift turnaround to avoid the spray and the onset of hypothermia.
We managed to surface in daylight so again avoided wandering around aimlessly on the allotment - may this trend continue. Most of the team avoided serious hypothermia and Hobby treated us to tea and cake on our return to the car - that's success in my book.
An exhilarating trip to help stave off the January blues. Thanks to Ade, Tam, Hobby, Toby and Laura for some (mostly) splendid company.